Michael Murphy
The statistics will show that Michael Murphy captained Tipperary to All-Ireland victory over Kilkenny in 1964, but one can only speculate as to what he might have achieved, had not a knee injury brought his career to a premature end in 1965 when he was only twenty four years of age.
A brilliant minor, Michael won All-Ireland medals at this level in 1956 and '57 and he captained the team beaten by Limerick in 1958 Munster Championship. He made his senior inter-county debut against Wexford in the Oireachtas final in 1960.
Though he did not figure on the county side in '61 when Toomevara had the selection, he was once more included in the panel in '62, which went on to All-Ireland success over Dublin, with Jimmy Doyle as captain. Michael captained Tipperary to National League and All Ireland victories in the 1964. The league final was played in New York and this was one of the highlights of his career.
However tragedy was just around the corner and in the county semi-final against Roscrea that year he damaged his knee in a fall. He tried to recover but despite two operations and a variety of treatments, his career was at an end. Nowadays the injury would be treated and fully healed in three weeks, but medical science could do nothing for him back then.
In the short time he was at the top Michael, in addition to his All-Ireland medals, won two National League and three Oireachtas medals, a total of 15 county championship medals (8 senior, 3 junior and 4 minor) with Sarsfields and Croke Cup and Dean Ryan medals with Thurles C.B.S.
Pat Stakelum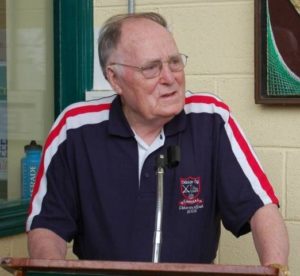 On Friday 4th April 2008 a deep sense of shock and sadness descended on Durlas Óg when it was learned that Club President Pat Stakelum had passed away. It was known that Pat hadn't been well but knowing Pat's positive attitude and his battling qualities his death came as a major shock to all of us.
Where does one begin to recall Pat's lifelong association with the G.A.A. as a player, administrator and to Durlas Og he was the greatest ambassador we ever had.
On the playing fields Pat was rated as one of the best centre-backs of all time and during an illustrious career he won every honour in the game. As a youngster growing up in Holycross he developed the skills that were to distinguish him as player above the ordinary in the ensuing years. Honours came his way with Thurles C.B.S. and in 1945 he was on the Munster Colleges team which defeated Leinster and played at centre half-back for the Tipperary minor team sensationally beaten by Dublin in the All-Ireland final that year.
Pat made his debut for Tipperary in 1947 and went on to captain Tipperary to All-Ireland success in 1949. Pat added further Celtic crosses to his collection in 1950 and 1951 as Tipperary completed a famous three in a row. In addition to the three All-Irelands, Pat won six National Hurling League medals, six Railway Cup medals, Oireachtas, Thomand Feis and Monaghan Cup honours in an inter-county career which ended in 1958. He was also honoured with the All-Stars, Munster Council and Mid Tipperary "Hall of Fame" awards as well as a Tipperary Cumann na Sean Ghael award last winter. At club level, Pat won three County Senior Hurling titles with his native Holycross-Ballycahill in 1948, 1951 and 1954. Pat served as County Secretary from 1961 to 1963 and also served for a period as a Tipperary senior selector.
All in Durlas Óg will remember Pat for his remarkable and sterling service to the club. Pat played a major role in the formation of Durlas Óg and he was one of the founding fathers in 1979. His contribution to Durlas Óg in various roles in the intervening years was to say the least immense. He always portrayed a very positive image of Durlas Og where ever he went. Pat took great pride in being Durlas Óg President, a position he held since 1979, and he was very active in club affairs up to a few months before his death. His Saturday morning visits to Pairc na nÓg with his dear friend Mick Carroll was one of the highlights and his words of advice and encouragement to the players and mentors were always gratefully received.
Pat was a great family man and his family meant everything to him. He will be a major loss to his wife Nancy, his daughters Norah, Mary and Lucy, sons Paraic and Fionn and the extended Stakelum family.
The following was Pat's favourite verse that he recited on many an occasion including medal presentation nights over the years –
Our Boys,
Your Boys,
Their Boys, All Boys.
Plenty of room for dives and dens,
Glamour, glitter and Sin,
Plenty of room for prison pens,
Gather the criminal in,
But never a place for the lads to race,
Never a place to play.
Give them a chance of innocent sport,
Give them a chance for fun,
Better a playground now than a court
And jail when the harm is done,
Give them a chance if you skimp them now,
Tomorrow you will have to pay
A larger bill for a graver ill,
So give them a chance to play.