In the early years of Dúrlas Óg the Club had no grounds of its own. The goodwill of the adult clubs in the town and in particular the Christian Brothers provided the many pitches needed for the high numbers playing. In 1985 the Club under the Chairmanship of Gerry Spain decided that it needed a base of its own and acquired a field at Garryvicleheen (Abbey Road).
It is an indication of the courage and foresight of the men behind the scenes in Dúrlas Óg that when the land became available, they moved quickly to stake their claim. The field was developed over a four-year period and a modern clubhouse was built. The Club received a £25,000 National Lottery grant and also availed of grants from G.A.A. sources but the people of Thurles rallied strongly to support the various fund-raising projects undertaken by the Club.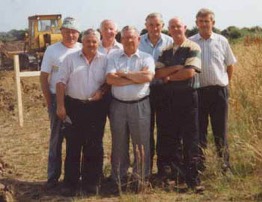 At a meeting of the club on 4th May 1987 it was proposed by Jimmy Coppinger that the field be called "Pairc na nÓg". The first club meeting to be held in the new Clubhouse took place on 14th August 1989.
On the 3rd June 1990 Dúrlas Óg's dream was fulfilled and their Clubhouse and grounds were officially opened by Michael Maher, Chairman of the Munster Council and were blessed by Most Rev. Dr. Dermot Clifford, Patron of the G.A.A. and Archbishop of Cashel & Emly.
An extension consisting of a large store and an extra dressingroom was added to the Clubhouse in 2004. Netting was also erected behind both goals. This project received grant aid from the National Lottery, Tipperary North County Council, Thurles Town Council and the Munster Council G.A.A. Sean Fogarty, Chairman of the Munster Council, officially opened the extension on 14th August 2004.
A hurling wall and astro turf pitch with floodlighting was erected in 2008. This facility was dedicated to the memory of the late Pat Stakelum.
Pairc na nÓg – "the field of dreams" where hundreds of boys in Thurles were introduced and coached in the skills of football and hurling.